In this edition:
Pre-order our book 'At the Gates: Disability, Justice and the Churches' now
Video series 'Shut In, Shut Out, Shut Up' returning this evening – 10th June
Church Times/HeartEdge webinar on Disability and Intersectionality
Save the date: Disability and Church annual conference – 15th Oct
ANVIL Journal of Theology and Mission: issue on Mission and Disability
Recommended reading: 'My Body is Not a Prayer Request' by Amy Kenny and 'Being Disabled, Being Human' by Kt Tupling
---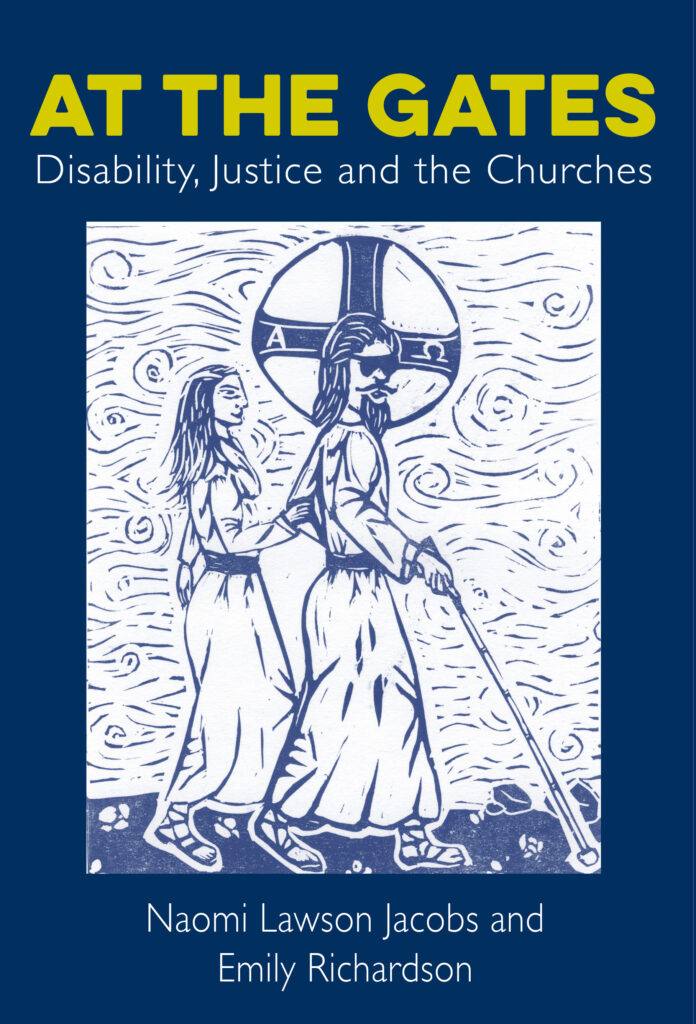 Our forthcoming book is based on ten years of research with more than 50 disabled Christians, who share prophetic stories of waiting at the church gates. Their stories call for churches to transform into places of justice for disabled people, where the voices of disabled congregants and leaders are heard, as churches learn from and celebrate the work of the Holy Spirit in disabled people's own communities on the edge.
The book is available to order now in print form, with an e-book available soon (we'll let you know when). We hope to have an audiobook out by the end of the year. We're also discussing the possibility of a 'plain English' version, if we can raise money to cover the cost. Watch this space!
'At the Gates' is out on 31st July 2022.
---
Shut In, Shut Out, Shut Up
Disability and Church: Intersectionality
The groundbreaking video series Shut In, Shut Out, Shut Up is about to return from a break – tonight! This fourth series has been looking at disability, intersectionality and church. I especially enjoyed the session on gender, and Molly Boot's reflections on how disabled, neurodivergent and gender nonconforming people reflect the diversity of God's character. The event on mental health was wonderful, too, where Kate Harford challenged a Church that has not always trusted her to tell her own story of distress, as she called churches to amplify our first-hand stories, theologies and lived experience. The series has brought together many other thought-provoking contributions from brilliant disabled and neurodivergent speakers. Find them all here.
Book on Eventbrite here to join in with the new series of Shut IOU, beginning at 4.30pm tonight, 10th June, and for the following two Fridays:
All sessions hosted by Shut IOU creator Fiona MacMillan.
If you can't join live, you can rewatch later at the HeartEdge YouTube channel.
---
Church Times/HeartEdge Webinar
Disability and Church: Intersectionality
Last month, I was delighted to speak on a panel with Fiona MacMillan, Lamar Hardwick and Rachel Mann, on the subject of intersectionality, disability and churches. Between us, we spoke about neurodiversity, race, gender, sexuality and disability, sharing our challenges to church and society as we called for justice for multiply marginalised disabled people. I learned so much from listening to the other speakers — I hope you enjoy(ed) it just as much.
If you didn't catch the session live, you can watch the video here:
---
Save the Date: Annual SMITF/Inclusive Church Disability Conference — 15th October 2022
It's always the highlight of my year. This annual disability conference gathers a growing community of disabled Christians and our allies, to resource each other and the Church. This year's event is once again hosted by HeartEdge, meeting online on 15th Oct 2022. BSL interpreted. As always, if you can't attend in person, you can follow along with highlights of the day on Twitter (staffed by me, this year!) Videos of key talks will be shared after the event. Registration opens in July.
While you're waiting for October, you can catch up with past conferences here.
---
ANVIL Journal of Theology and Mission: Mission and Disability
In February, ANVIL released an issue on disability and mission, to which I contributed an article. Edited by Kt Tupling, many of this issue's articles reflect on mission by and with disabled people, moving on from more traditional thinking about outreach to us. All the articles are open-access (free to read). You might recognise some familiar authors here (many of us disabled ourselves), with contributions from Rachel Noel with Fiona MacMillan, Bill Braviner, Emma Major, Tim Rourke, Kay Morgan-Gurr and Mark Arnold. Start with Kt Tupling's editorial.
Read my article here: A Man with a Mission: Mark 1:40-45 and 'Mission With' Disabled People.
---
My Body is Not a Prayer Request – Amy Kenny
I'll give the last word to two books I'm currently reading. First, Amy Kenny's 'My Body is Not a Prayer Request' (also in audiobook form here). A beautiful, prayerful, personal cry for justice for disabled people in churches and society, this is the book I've been longing for for at least a decade. Grounded in liberatory disability theology, the book is nonetheless accessible and engagingly written. I'll say more in a proper book review soon. For now, if you're disabled, you need this book — and if you're non-disabled, you (and your church) really need this book!
I've also been reading the fantastic 'Being Disabled, Being Human: Challenging Society's Perception of Disability and Personhood', by Kt Tupling, from the Grove Ethics series. Drawing on lived experience, Kt puts disability into its social context, including the impact of the pandemic. The book challenges churches to respond to disability oppression by reimagining unjust systems, questioning values around personhood, and becoming more accessible communities. Recommended!
---
That's it for now! If you or your group are putting on an event, writing an article, or doing something else related to disability and church, and you'd like me to share it in a future 'community news' post, contact me here or on Twitter.