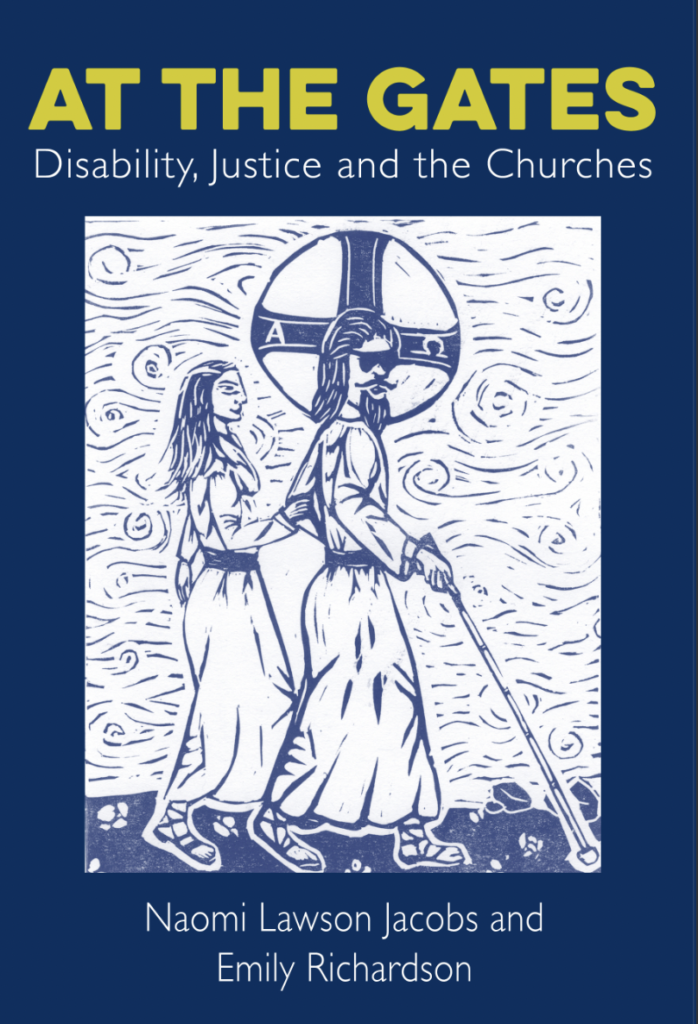 Out now! Order here from Darton, Longman and Todd, or buy the ebook here.
Based on a decade of research into disabled people's experiences of churches and Christian faith, At The Gates: Disability, Justice and the Churches shares these disabled Christians' stories in their own words. As they share their struggles to access and participate in churches, these storytellers speak back to a Church that has more often told their stories for them, calling for justice for all the disabled Christians who have been left waiting at the church gates.
Latest Book News
Oct 2023: We're delighted that 'At the Gates: Disability, Justice and the Churches' has been longlisted for the Michael Ramsey Prize.
Aug 2023: Emily and I spoke at Greenbelt, drawing together stories from the book on the theme of Disability and Justice: Prophets on the Edge.
June 2023: We spoke about the book for a webinar hosted by St Paul's Cathedral – At the Gates: Sharing the Stories of Disabled Christians.

2022:
Naomi's blog for Modern Church on disability and God's justice.
Watch the 'At the Gates' book launch here. Hosted by HeartEdge, in conversation with Fiona MacMillan and guests.
Naomi was interviewed for the Radio 4 Sunday programme on 4th Sept 2022, with Rev Zoe Heming (audio). Starts at minute 29:15.
The Church Times shared an extract of the book.
We were interviewed about the book by Torch Trust for RNIB Radio.
Naomi and Emily were in conversation with Louisa Lockwood for Preach Magazine's YouTube channel.
For Preach Magazine, Naomi and Emily reflect on how the book came to be, and our vision for disabled Christians in today's churches.
Reviews of 'At the Gates'
'At the Gates is a phenomenal journey. It transports the reader into the world of the disabled person who loves Christ. It then points to a world and a church which attempts to disable the image of Christ in so many. The book exposes the ablest tendencies many institutions and individuals perpetuate. Through strong theological rigour and a variety of gifted storytellers, we learn to encounter God within all, we are asked to provide access with all, create bespoke tables to accommodate all, and design liturgies which include all. It points forward with many practical and necessary steps, for a renewed church within our world.'

A.D.A France-Williams, priest, author of 'ghost ship'
'At the Gates brings together stories from more than fifty disabled Christians as a much-needed prophetic call to churches to repent of the ableism that prevails. Refreshingly, this collection allows disabled Christians to share our own experiences, offering a tender and heartbreaking invitation to open the gates of exclusion. A mix of modern-day parables, compelling research, and first-person narrative, this timely work of disability theology demands justice that will leave readers transformed.'

Amy Kenny, disabled scholar, author of 'my body is not a prayer request'
'In centring the diverse voices, stories, experiences and theologies of disabled people, both within and beyond the Church, At the Gates offers profound and powerful insights into being human, being Church, the gospel and God, that come together in a call not for inclusion but for transformation: a radical re-centring among those who have for so long been marginalised and excluded by the narrow ableism of both world and Church, and a repentance that leads to the justice and liberation of the Kin-dom of God. This book is Spirit-breathed good news for the Church: prophetic, challenging and life-bringing!'

Al BARRETT, Co-author of 'being interrupted: re-imagining the church's mission from the outside, in'
'Churches should be inclusive and accessible for everyone, and sadly all too often barriers still remain in place. I am pleased that this book has drawn on the lived experience of disabled people, and I hope it can act as a turning point to encourage churches to ensure they do everything in their power to be inclusive for all of us.'

Marsha de Cordova MP
'This is a book of hope and prophecy; the authors and those whose stories they share are not looking for sympathy or pastoral care or even to inspire others but to claim their baptismal status as equal children of God. They challenge the church to open its eyes to see and actively embrace the gifts of disabled people and to allow itself to be transformed, to enter into its divine calling to be the place of justice and equality in a world that is a hostile place for so many.

Written from the margins, this is a practical book for all who love God and love the church and desire to see it become what God called it to be.'

Hannah Lewis SCL, Chaplain amongst the Deaf Community, Diocese of Oxford
'Naomi and Emily have given us a precious gift – the voices of disabled people. Interwoven with the statistics, facts and failings of society, politics and Church structures, disabled voices have shone through and told the story of hope. Have no doubts, this book is also a challenge. Don't read it, sit back and say "now I am better informed and understand their experiences – what a blessing." Read, weep, lament for the injustices. Repent, re-adjust, and change the culture. Collaborate with us, the disabled people (some of whom are already on the inside). Pay attention to this prophetic book and its contributors. Join in.'

KT tupling, priest, author, co-founder of 'disability & jesus'
'Naomi Jacobs and Emily Richardson know that example is the best teacher, testimony the best advocate, but argument, persistence and reframing are needed if change is to come about. They long for a church that looks more like God and a society that inhabits God's reign, and they provide relentless examples, moving testimonies and compelling arguments for what would change and how things could be if the voices and lives of people with disabilities were permitted to reshape the culture of communities. This is an elegantly structured and profoundly argued case for a very different but much holier and more faithful church.'

Samuel Wells, vicar of st martin-in-the-fields church
'Probably the most important book on disability and church to date. It draws together the voices and experience of disabled Christians who are calling to the church for justice. Buy it, read it, help the church to change.'

fiona macmillan, chair of the disability advisory group at St Martin-in-the-fields church
Review of 'At the Gates' at the Inclusive Church blog, by Krysia Waldock.
About the Book
Based on extensive research, Naomi Lawson Jacobs and Emily Richardson have collected prophetic and transformative narratives of experience, shared directly by disabled people who have rarely been enabled to speak in Christian books about disability. By centring disabled Christians' own stories, this book calls for churches to move from a care-based approach to disability, to one that is focused on justice, equality and access to churches for disabled Christians.
Naomi Lawson Jacobs (they/them) is an independent social researcher and disability equality trainer, who works in the voluntary sector and in churches. After an MA in Disability Studies, Naomi's PhD in Study of Religions (SOAS, University of London) was based on research with disabled Christians, whose stories have contributed to this book. Naomi is on the planning team of the Inclusive Church/St Martin-in-the-Fields disability conference, and they write and speak widely on disability and justice in church and society.
Emily Richardson (she/her) is a writer and speaker whose interests include theology, inclusion and communication. She studied theology at St Andrews and now works for a large church as communication coordinator. She is active on social media and has spoken on inclusive communication at various Inclusive Church events.