We're Book of the Week at Church House Bookshop – 20% off, this week only!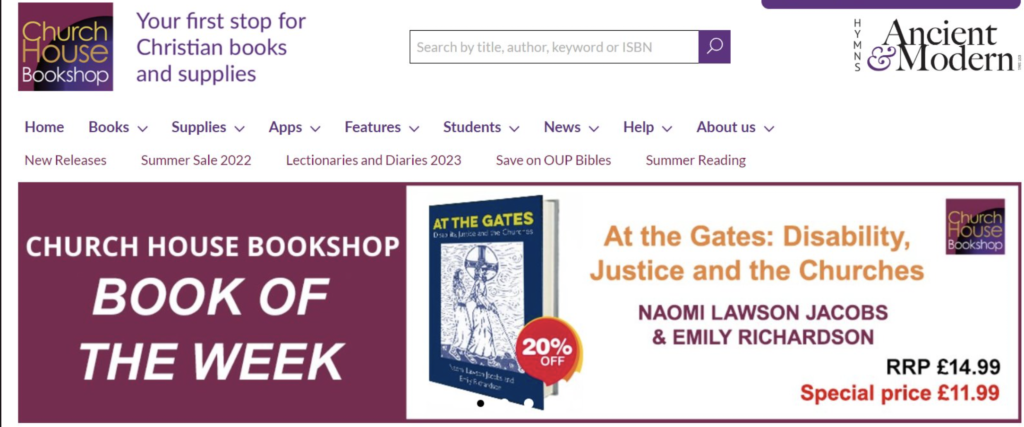 'At the Gates: Disability, Justice and the Churches' was released last Sunday. Readers have been receiving their copies this week, sharing some lovely tweets and comments with us. Thank you! We're so excited to get this book into the hands of disabled Christians, most importantly, as well as church leaders and others with the power to hear these stories and begin to create change.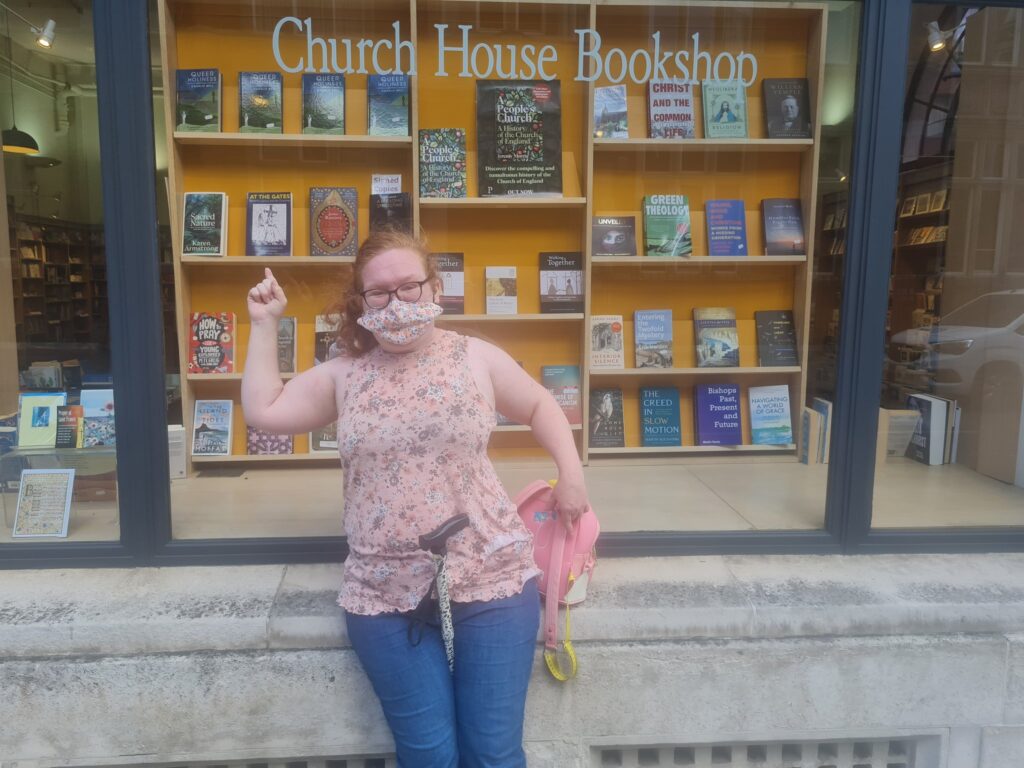 More to read about 'At the Gates' before you buy
Reviews:
Book extracts and articles:
Coming Soon: Book Launch and Interviews
Register here for our online book launch event on the evening of September 13th, hosted by HeartEdge.
In the meantime, Emily and I are busy doing interviews for Premier Radio, Preach Magazine, Torch Trust and several others. We'll link when they're out!
Ready to buy the book?
Emily has put together a Linktree to some of the bookshops where you can buy 'At The Gates', including ebook versions. Don't forget you can get 20% off the print version at Church House Bookshop this week. In the US, Barnes and Noble have it.
We're also working on getting #AtTheGates into accessible formats for blind/VI people. More details soon! In the meantime, the e-book is available from the DLT site https://dltebooks.com/product-page/at-the-gates.
(Watch this space for audiobook news. I'm so sorry this won't be available for a little while, as we're recording it ourselves, but it's on the way.)
Storytellers who generously shared your stories for the book – watch out for signed copies in the post, in the next week or so!
And finally…
I'll leave you with some of the book extract that HeartEdge shared this week. From the Introduction to 'At the Gates':
[The disabled people in this book] call churches' attention to the ways they value one way of being human over others. They call for churches to care about the flourishing of all, not just the non-disabled. Theirs is a Kingdom theology of metanoia—repentance, that leads to justice. Listening to our stories and experiences is no tokenistic act. It is part of the work of repentance for ableism; it is the first step in reconciliation with the disabled people whom churches have rejected. This is not 'inclusion,' in which the powerful seek to welcome outsiders into the centre of churches. This is transformation.

The disabled Christians in this book are crying out, not just for a seat at the edge of the old, inaccessible table, but for a reimagined table that truly makes space for everyone who is part of God's good creation. As churches listen to these prophetic voices, they may learn to turn their understanding of mission and ministry upside-down. No longer a mirror of society's values, these Christian communities will become a truer reflection of the diverse, just Kingdom of God.

From 'At the gates' by naomi lawson jacobs and emily richardson
Naomi's article from the Church of England newspaper, 8th July 2022 (or buy a single PDF issue for 89p at the CON app):