For an introduction to the research findings, download the booklet written in accessible language.
If you would like the booklet in another format, please contact me one of the links on the Contact page and I'll arrange it for you.
Many churches have moved online because of coronavirus. For some disabled people, this has opened up the Church. In this article in the Church Times, I talk about what churches might learn about how to better include disabled people, from lockdown and online church, reflecting on my research.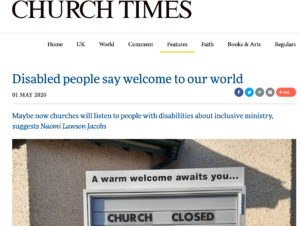 There is a simple language version of this article here.
You can read the full PhD thesis here: The Upside-down Kingdom of God : A Disability Studies Perspective on Disabled People's Experiences in Churches and Theologies of Disability.