A while ago, there was a twitter #phdchat discussion about the importance of putting our research into plain English, so that everyone can understand what we research. This page was the result.
In my PhD research, I looked at the experiences of disabled Christians.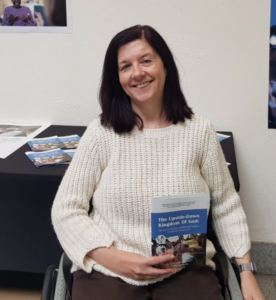 I listened to 30 disabled church-goers about what church is like for them: their experiences of being included in churches, and their experiences of exclusion from churches. Exclusion means different things to different disabled people. It may mean physical access difficulties. It might be attitudes that people find unhelpful. It could involve church cultures and 'ways of doing things' that people can't easily fit into. Or it can mean discrimination due to disability. I also take part in church work organised by and with disabled people, including the Inclusive Church/St Martin-in-the-Fields conference on disability and churches.
Before I went out to talk to people, I looked at theories of disability in Christianity, so I could understand the context of what people said. I looked at the history of churches in relation to disability. I was interested in ideas of healing and the body, and how this relates to disabled people's self-image and identity. For example, there are stories in the Gospels where Jesus heals people. I wanted to know how disabled people in churches feel about these stories and how they are used in churches. This helped me to understand how church leaders see disability and where they get their ideas about it.
For me, the most important thing about my research was that I wanted it to be as participatory as possible. This was based on the principles of emancipatory disability research, which is a way of doing research, designed by disability studies academics and disability justice activists. It tries to make sure that disabled people can have meaningful participation in research. In the past (and often still today), academic research on disability has been done by people who know nothing about what it's like to be disabled. Disability studies has tried to change that, by making sure that disabled people are treated as the experts on disability – the researcher is only an expert on research. I take the same approach in my training. This approach to research proved extremely difficult, in practice, because I was a disabled graduate researcher with limited funding. But that didn't give me an excuse to stop trying. I worked with a group of disabled Christians who helped me understand if I was asking the right questions in the research. I went back to my research participants to ask their opinions on what I was writing. And I applied for funding to pay everyone who took part in the research, as disabled people are far too often asked to give something for nothing.
This kind of research also involves a principle of 'giving back' to the community you've researched – in this case, to disabled Christians and churches. As a trainer, campaigner and researcher, I hope there will be things I can do to 'give back' to disabled Christians and their churches, and to share my findings widely. For example, I hope that I'll be able to offer training to churches, based on the research and my training experience, about how to make their churches more accessible for disabled people.
This accessible booklet about my research is the first research 'output' I have made – I wanted my first report on the research to be aimed at disabled Christians, not academics.
I'm very grateful to all the people who have generously shared their time with me and taken part in the research. Their stories are valuable and I hope not to waste them, but to feed back their experiences to churches and beyond.